Discover the importance of rare earth magnets in your life
Centrum voor Milieuwetenschappen (CML) Universiteit Leiden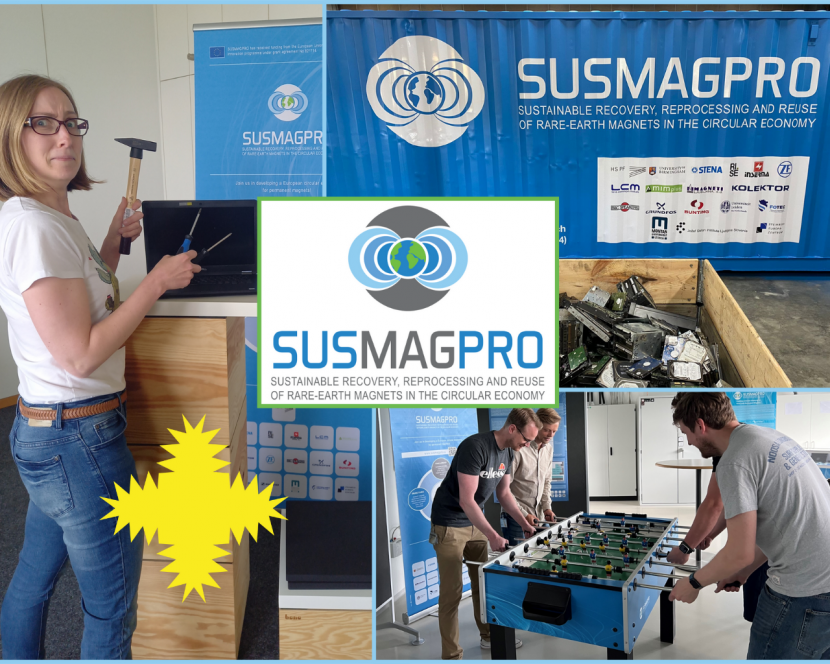 An interactive roadshow with hands-on activities on rare earth magnets and a demonstration of a robotic arm. With specific workshops and lectures for groups of pupils and students.
Have you ever heard of rare earth magnets (RE magnets)? Probably not! But did you know that you use those magnets every day? And do you know why rare earths are crucial for our modern lives? Join the partners of the EU project SUSMAGPRO at their roadshow stop at the university. 
In addition to several interactive exhibitions pieces and hands-on activities on the topic of RE magnets and related environmental, social and economic challenges, a pilot process inculding a robotic arm will be demonstrated: the automated identification and separation of rare earth magnets from hard drives.
SUSMAGPRO partners will also offer special workshops and lectures for groups of school pupils and students. If you are interested in organising a group visit, please contact the team at susmagpro@gmail.com and they will be happy to arrange a time slot and activities.
Location: Institute of Environmental Science (CML) Leiden University Van Steenis Building Einsteinweg 2 2333 CC Leiden
Time:  10.00 - 20.00 hrs
Ticket: Free! No registration necessary, only for groups of students / pupils wishing to book a workshop (including interactive activities, tour through the exhibition, lecture...) via mail to susmagpro@gmail.com 
This activity is available in both Dutch and English. It is also possible to discuss in German and French. More information on the website.
About the project  
Why should we care about a circular economy for RE magnets? The EU-funded project SUSMAGPRO (H2020 programme) addresses the establishment of a circular economy for permanent magnets, which are an essential part of many products we use every day, e. g. washing machines, laptops or flatscreens, but also that play a key role in achieving the green transition, like water pumps, wind turbines and e-vehicles. Permanent magnets are often based upon Rare Earths (RE). RE are not, in fact, rare, but their mining and refining remain difficult and are linked to environmental damage and hazardous waste, despite investments in better processes and monitoring practices. RE are also classified as Critical Raw Materials, as the EU is heavily dependent on their import, with one single country, namely China, dominating the supply.
Watch the project video of SUSMAGPRO here. 
The 18 European project partners of SUSMAGPRO are developing solutions to identify and separate end-of-life RE magnets from waste products more easily and recover the valuable RE, as well as to produce reliable recycled RE magnets in more sustainable processes. The recycled magnets are demonstrated in water pumps, loudspeakers and motors with manufacturers. Project partners also develop circular economy business models to counteract landfilling and unsustainable business-as-usual practices. By paving the way to a more sustainable supply chain of these highly demanded industrial commodities, SUSMAGPRO contributes to the achievement of the UN Sustainable Development Goals 7, 8, 9, 12, 14 and 15.
More information about the SDG's: UN Sustainable Development Goals