Orange the World: Stop Geweld tegen Vrouwen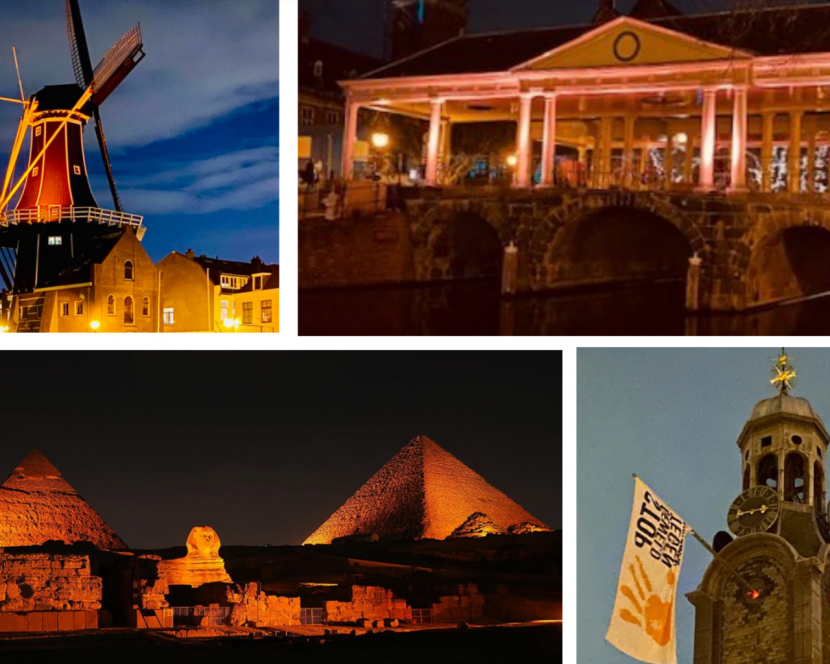 Leiden turns orange again this year! More than 90 countries around the world will be taking action against violence against women from November 25 to December 10. Orange flags, buildings and joint actions will conquer the streets. Will you join?
Orange the World is back. Last year, Leiden was one of 230 municipalities from the Netherlands that participated in the action to stop violence against girls and women. Everyone from Leiden is called upon again this year to participate, in whatever way they can, as part of a solution. Thus, residents are encouraged to break the taboo on talking about violence and actively contribute to the safety of women and girls in public, at work, on the streets, in public transport or in cafes. 
During the period from November 25 to December 10, illuminated signs with posters will be seen throughout the city and many buildings will be lit orange, such as the Turkish mosque, the Koornbeurs bridge, the Schouwburg, the Zeevaartschool, the Academiegebouw, the Burcht and the Heineken brewery.
The following activities will be organized as part of Orange the World: 
Kooiplein, November 25 at 4:30 p.m.
Alderman Abdelhaq Jermoumi will unveil an Orange the World Social Sofa, made by Soroptimist Club Leiden Aurora. Next, the mosque on this square will be lit up orange. Everyone is cordially invited to attend.
Stadhuis, November 25 at 7:30 p.m.
After a welcoming speech by alderman Julius Terpstra, al drama group De Generator will take the stage with a short play. This will be followed by a panel discussion with the audience, on the importance of supporters to stop violence against women. Walk-in begins at 7 p.m. and the evening will last until approximately 10 p.m. For this activity, you are asked to sign up by email to otw.leiden@gmail.com
Centre of Leiden, November 30
Throughout the day, MBO Rijnland will spray environmentally friendly street graffiti in the city center with the theme: Stop Violence Against Women
Want to participate or organize your own activity? Keep an eye on the website of www.orangetheworld.nl or www.vrouwennetwerkleiden.nl!