The Finale Festival
We'd love to invite you to the Finale Festival of Leiden European City of Science on Thursday the 22nd of December 2022. It will be a knowledge-Christmas-spectacle filled to the brim with science, knowledge, art, and craftsmanship, with a choice of highlights from the past year. Of course, we will also be looking forward because the theme of the 22nd of December is: FUTURE.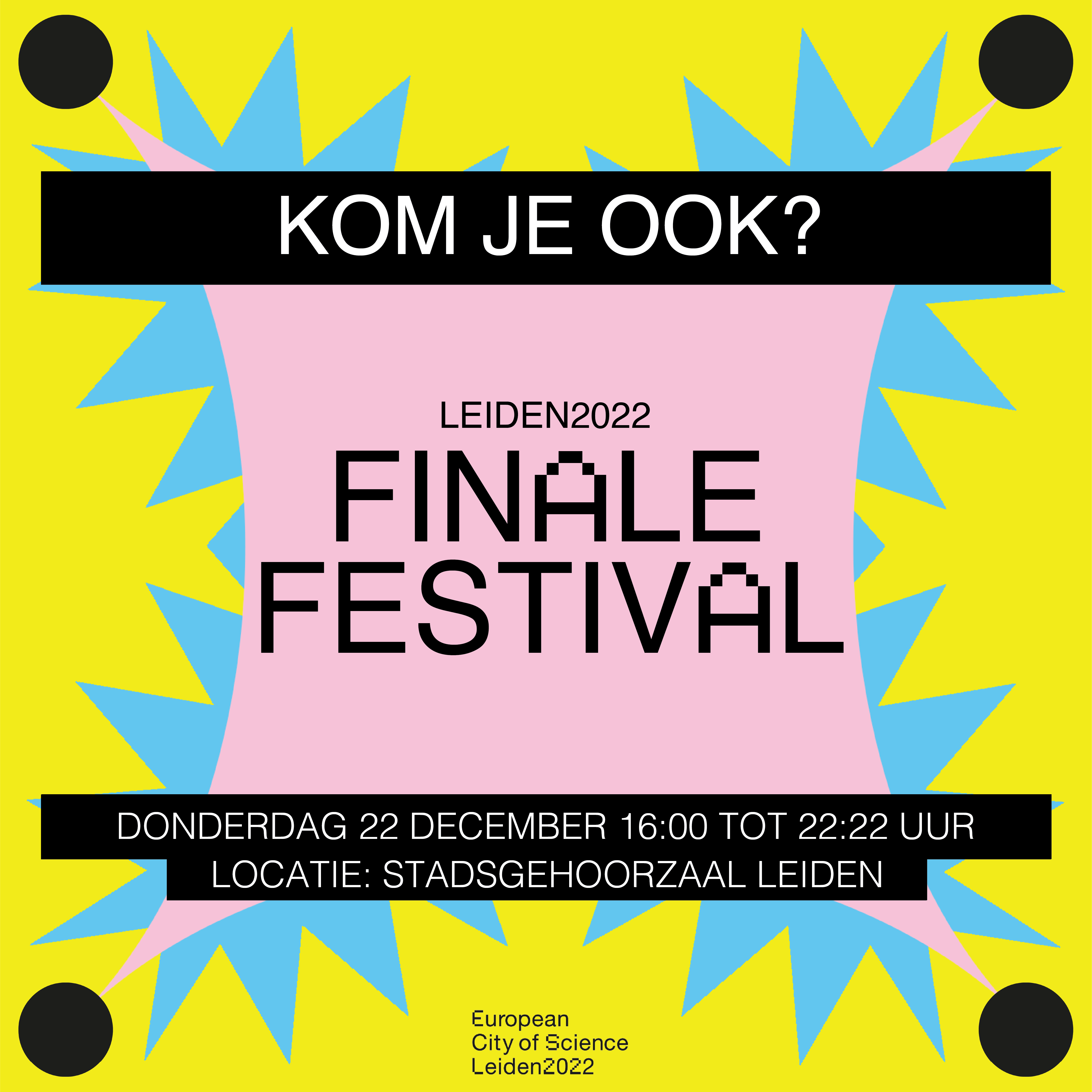 On the 22nd of January 2022 Leiden European City of Science was officially opened by minister Robbert Dijkgraaf. This entire year we aim to connect science and society through a 365-day program meant for everybody with a curious mind. In December we'll celebrate the whole year via the Finale Festival!
The Finale Festival will take place on the 22nd of December 2022 between 16:00 and 22:22 (4pm and 10:22pm) in the Stadsgehoorzaal in Leiden.  
Do you have a curious mind? If so, then the Finale Festival is the place for you! You can attend free of charge. The Finale Festival is also meant for everyone who played a role in the past year as a day owner, participant, partner or audience member. So, do you want to know more about the results of Leiden2022? Do you want to experience the entire year with us just one more time? Or do you have questions about the future? Then this is your chance to gain inspiration.  
Do you know more curious minds? Everyone is welcome. Do not hesitate to take someone with you to the Festival or to spread the word. We'd love to see you on the 22nd of December! Do keep in mind that this event will mainly be in Dutch. Visitors that do not speak Dutch are also welcome. We will accommodate for English-speaking visitors wherever possible.  

Let us know you're coming via this link!
PROGRAM
Between 16:00 and 21:22 (4pm and 9:22pm) you are a welcome to roam the festival floor at your own leisure. Who or what can you expect? 
Relive the magic of Seeing Stars 

Postbus 71 answers all science questions on the spot 

Play the life size game "Equal opportunities" by Theater group PS  

Ask scientific questions with the best TV show of 2022: Nieuw Licht  

Join a Microbiome (!) Dating show  

Aaf Verkade tells her story about Leiden canal water 

Discover the universe through the James Webb telescope 

A live radio broadcast from Radio Weetlust 

Former city photographer Koen Suidgeest with his book on diversity in Leiden 

Margaret Gold's Citizen Science Lab 

Ice cold experiments by Freezing Physics 

The Circular Warehouse where you turn your old clothes into 'hot couture' 

Tradition 2050 exposition on the future of Leidsch Ontzet 

... and a whole lot more! 
Additionally, from 19:00 till 20:22, we will hold a silent disco symposium on the stage of the Grote Zaal. We will keep you up to date with this programming.  
Finally, we will close the evening with festive drinks between 21:22 and 22:22!